TP-Link TL-SG1008MP 8-Port Gigabit Desktop/Rack-mount Network Switch with 8-Port PoE+
Description

What Does This Product Do?
The TL-SG1008MP is an 8-Port Gigabit Desktop/Rackmountable Switch that supports the PoE+ standard on all eight ports. It allows you to expand a wired network easily by transmitting power and data over a single Ethernet cable. With a total power budget of 153W and up to 30W per port, the TL-SG1008MP can power more powerful devices like WLAN Access Points (APs), IP Cameras, or IP Phones. Furthermore, the TL-SG1008MP can conserve power with revolutionary energy-efficient technology, making it an eco-friendly choice for your corporate network.
How Does it Work?
The 8 SG1008MP's ports all support the Power over Ethernet Plus (PoE+) protocol, which can automatically identify and deliver power to any IEEE 802.3af/at compatible device (s). In this case, electrical power is sent together with data in a single cable, allowing you to expand your network where there are no electrical connections or outlets, allowing you to fix devices such as APs, IP Cameras, or IP Phones
Overload Arrangement
The TL-SG1008MP features a priority function that aids in the protection of the system when its power is overwhelmed. If the total power usage of all PoE+ devices exceeds 153W, a priority will be assigned to the 8 PoE+ ports, and the system will turn off the power to the lowest-priority port.
Easy To Use
The TL-SG1008MP is simple to set up and operate. It does not require any configuration or installation. The TP-Link TL-SG1008MP 8-Port Gigabit Desktop/Rack mountable Switch with 8-Port PoE+ is an excellent choice for extending your home or office network thanks to its Desktop/Rack mountable design, amazing performance, and quality.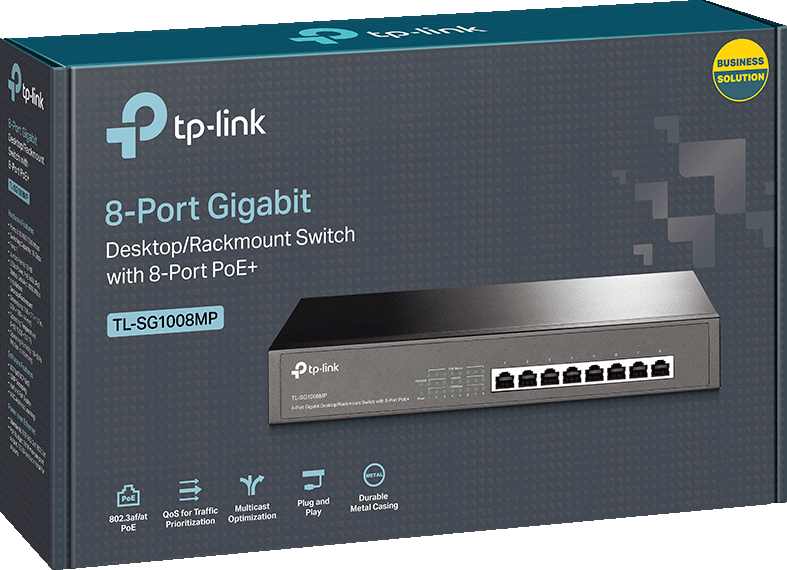 Port Priority Function
Priority (port one > port two > port three > port four > port five > port six > port seven > port eight): This function protects the system in the event that the power is overwhelmed. For example, if ports 1, 2, 4, 5, and 7 are consuming 30W (maximum power per port is 30W, total system power is 153W), and an extra device is put into Port 3 at 25W, the system will turn off Port 7 in reaction to the power surpassing the 153W limit. This implies that Ports 1, 2, 4, and 5 will use 30W, while Port 3 will use 25W, and Port 7 will get no power because it has the lowest specified priority among the ports in use.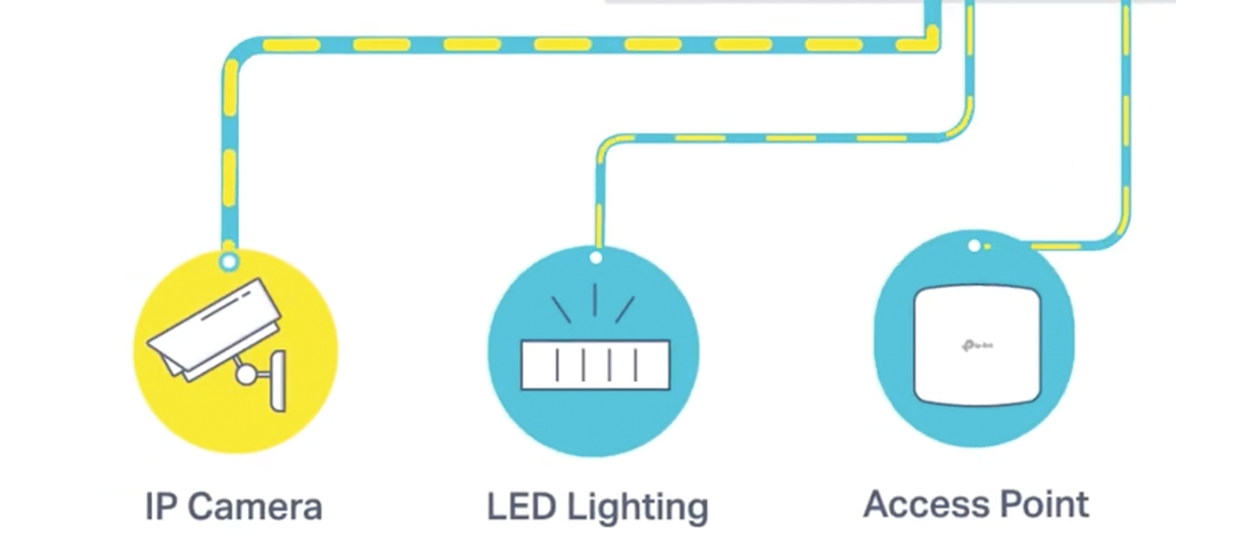 Features
8 RJ45 10/100/1000Mbps ports
With 8 PoE+ capable ports, you can transport data and power via a single cable
Expands home and business networks by working with IEEE 802.3af/at compatible devices.
Innovative energy-saving technology lowers power usage.
PoE+ standard is supported, with a total power budget of 153W* and up to 30W per port.
There is no need for configuration because the design is plug and play.
*Laboratory testing is used to calculate PoE budgets. Actual PoE power budgets are not guaranteed and will vary due to client constraints and environmental variables.
What's Included
Hardware Features
Interface

8 10/100/1000Mbps RJ45 Ports
AUTO Negotiation/AUTO MDI/MDIX

ANetwork Media

10BASE-T: UTP category 3, 4, 5 cable (maximum 100m)
EIA/TIA-568 100Ω STP (maximum 100m)
100BASE-TX: UTP category 5, 5e cable (maximum 100m)
EIA/TIA-568 100Ω STP (maximum 100m)
1000BASE-T: UTP category 5, 5e, 6 or above cable (maximum 100m)
EIA/TIA-568 100Ω STP (maximum 100m)

Fan Quantity
Physical Security Lock
Power Supply
Packet Forwarding Rate
PoE+ Ports(RJ45)

Standard: 802.3af/at compliant
PoE+ Ports: 8 Ports
Power Supply: 153W

Mac Address Table
Buffer Size
Jumbo Frame
Switching Capacity
Dimensions ( W x D x H )
Mounting
Max Power Consumption

8.57W(220V/50Hz. no PD connected)
173.65W(110V/60Hz. with 153W PD connected)

Max Heat Dissipation

29.22BTU/h(no PD connected)
592.15BTU/h(with 153W PD connected)

Software Features
Advanced Features

Compatible With IEEE 802.3af/at Compliant PDs
Priority Function
Mac Address Auto-Learning And Auto-Aging
IEEE802.3x Flow Control For Full-Duplex Mode And Backpressure For Half-Duplex Mode

Transfer Method
Others
Certification
Operating Temperature
Storage Temperature
Operating Humidity
Storage Humidity
Product Specifications
Physical and Performance Attributes

Weight
1.000 KG