ERA continues to drive the innovation that supports home security. With over 175 years of manufacturing, design and innovation, ERA have been securing Britain's homes since 1838.
With the knowledge and a large product range ERA have the ability to fulfil all customer needs with their latest smart home products including the ERA protect range.
ERA cover all bases when it comes to security within the home, including the ERA Protect smart alarm system, sirens, motion sensors, floodlight cameras and much more.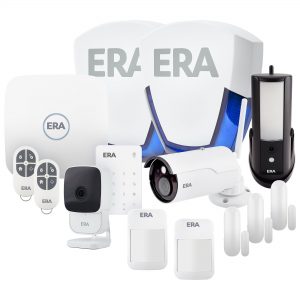 The Halo kit has a live battery-operated wireless siren for visual and audible protection, an external HD security camera, an external 1080p floodlight and security camera, an internal security camera and an additional keypad for ease of entry/ exit without using the app or remote.
Read More