ERA continues to drive the innovation that supports home security. With over 175 years of manufacturing, design and innovation, ERA have been securing Britain's homes since 1838.
With the knowledge and a large product range ERA have the ability to fulfil all customer needs with their latest smart home products including the ERA protect range.
ERA cover all bases when it comes to security within the home, including the ERA Protect smart alarm system, sirens, motion sensors, floodlight cameras and much more.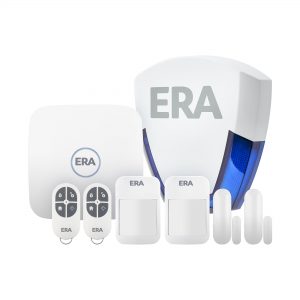 The Alert kit comes complete with a live battery operated wireless siren for excellent visual and audible protection. The wireless burglar alarm system is easy to install, set up and operate with no need to hard wire any accessories.
Read More
Era Protect - The Complete Home Security Solution
ERA Protect Introduction Video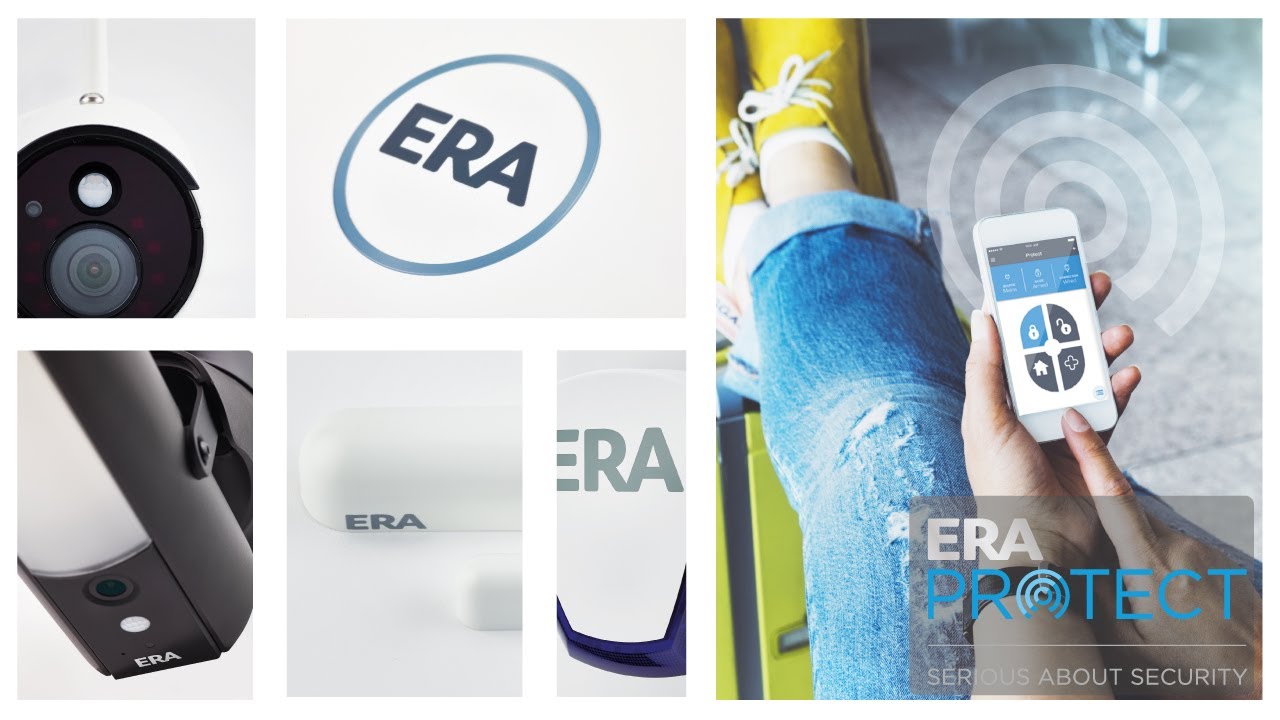 Choose from a range of smart security alarm kits to suit any home or budget.
The alarm system and cameras work together seamlessly in one fully integrated app that can be controlled from anywhere, anytime. The hub is set up, controlled and operated using the easy to access family app, that can be download for free to any smartphone.
Era Protect - Voice Control
Control your alarm system with the ease, the ERA Protect Hub is compatible with Amazon Alexa and Google Assistant. Once you've completed the setup you can use voice commands to arm or disarm your security system and cameras.
Features: PIN protection using a secure voice PIN Smart voice interaction Arm and disarm, set home mode, switch cameras on or off
With dual route communication, the ERA Protect takes security seriously. This system seamlessly switches between Wi-Fi and the built-in 4G Roaming Sim, making sure that in the case of a broadband outage, the alarm keeps your property secure and your cameras online, allowing for the uploading of footage to the cloud following alarm trigger. *
With programmable settings and a residential mode the Protect System allows the building's perimeter to be armed while allowing free movement inside, providing complete control over your home security.
Additionally, you can choose PROFESSIONAL MONITORING on a temporary or permanent basis, which means that in the event of an alarm trigger, someone else will notify the appropriate authorities for you.
* The ERA Protect can be used without Monthly fees or Subscriptions but use of the full functionality does incur a one off or monthly subscription fee.
ERA Protect Kit Comparison
| | | | | | | | | |
| --- | --- | --- | --- | --- | --- | --- | --- | --- |
| | Base | Alert | Deter | Deter Plus | Defender | Sheild | Guardian | Halo |
| Smart Hub | ✔︎ | ✔︎ | ✔︎ | ✔︎ | ✔︎ | ✔︎ | ✔︎ | ✔︎ |
| PIR Motion Sensor | 1 | 2 | 1 | 1 | 1 | 2 | 1 | 2 |
| Door / Window Sensor | 1 | 2 | 1 | 1 | 2 | 2 | 3 | 3 |
| Remote Control Keyfob | 2 | 2 | 2 | 2 | 3 | 2 | 3 | 2 |
| Replica Siren | | | 1 | 1 | | | 1 | 1 |
| Live Siren | | 1 | | 1 | 1 | 1 | 1 | 1 |
| Outdoor Camera | | | | | 1 | | 1 | 1 |
| Floodlight Camera | | | | | | 1 | 1 | 1 |
| Indoor Camera | | | | | | | 1 | 1 |
| Wireless Touch Keypad | | | | | | 1 | | 1 |
ERA Protect Subscription Comparison
| | | | | |
| --- | --- | --- | --- | --- |
| Features Included | Standard | Camera Only | ERA Protect Plus | ERA Protect Plus Premium |
| Internet | ✔︎ | ✔︎ | ✔︎ | ✔︎ |
| 4G Back Up SIM - Alarm | | | ✔︎ | ✔︎ |
| 4G Back Up SIM - Camera | | ✔︎ | ✔︎ | ✔︎ |
| 7 Day Rolling Storage | | | ✔︎ | ✔︎ |
| 30 Day Rolling Storage | | | ✔︎ | ✔︎ |
| WiFi Hotspot | | | ✔︎ | ✔︎ |
| Smart Speaker Voice Calling | | | ✔︎ | ✔︎ |
| SMS Notifications | | | ✔︎ | ✔︎ |
| Professional Monitoring | | | ✔︎ | ✔︎ |
| Programmable Plus Button | | | ✔︎ | ✔︎ |
| Price (per month) | Included | £2.99 | £9.99 | £19.99 |
| Price (per annum) | Included | £29.99 | £99.99 | £199.99 |