Set the mood with our range of smart lighting options, create the perfect ambiance from your smart device.
Smart bulbs, panels and strips can be used to create schedules or presets that can be activated anytime you want a change of surroundings. Set up panels to react to your music, and turn your living room into the life of the party.
What can we find for you?
Try some keywords to narrow your search such as: LED, Alexa, sensor, hub, exterior,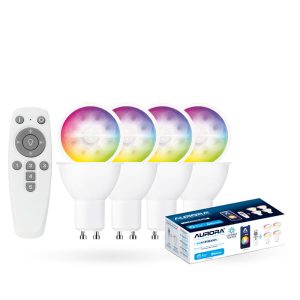 AOne Connect Control GU10 Dimmable RGBCX LED BT Smart Lamps and Remote Smart Kit. All preprogrammed and simple to set up.
Bluetooth mesh high quality smart lights with remote control and phone app connectivity. Phone app allows Music mode triggering lights in time with your favourite songs.
Multicolour and full range of white light.