Speed Comfort produce Europe's best-selling smart radiator fan. Their product will help you save money while making heating your home more energy efficient.
The fan (which comes in various sizes) will attach underneath your radiator via magnets and will push air up through it, the installation is super simple. The smart thermosensor will automatically turn the fan on and off based on the temperature of the radiator, which allows for hassle-free smart usage.
Set your thermostat 1-2 degrees lower without sacrificing comfort to get your room to the proper temperature in half the time.
Heat is transferred from a radiator or convector into a room faster and more evenly with SpeedComforts.
SpeedComforts allows you to lower the water supply temperature in your heating system.
Thanks to SpeedComfort, you can save up to 22% on gas consumption.
The power supply is lossless, which means that when the SpeedComfort isn't active, you won't waste any energy.
The fans are incredibly cost-effective. A SpeedComfort uses less than an estimated £0.13 in electricity per year based on 1,000 running hours*.
UK power pack included!**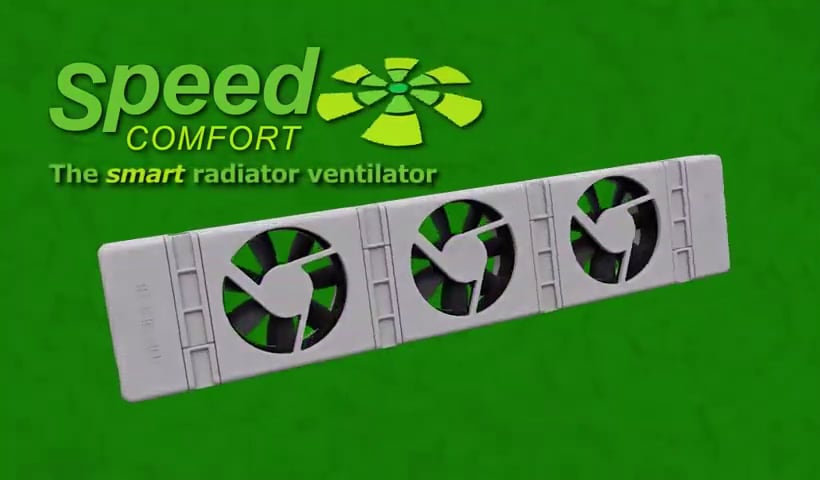 * based on Speed Comforts estimations.
** Orders will be shipped with a UK power pack, not the 2-pin EU plug shown in the video above - this is for reference only.
All Speed Comfort sets come with adjustable brackets and feet, no extra accessories needed.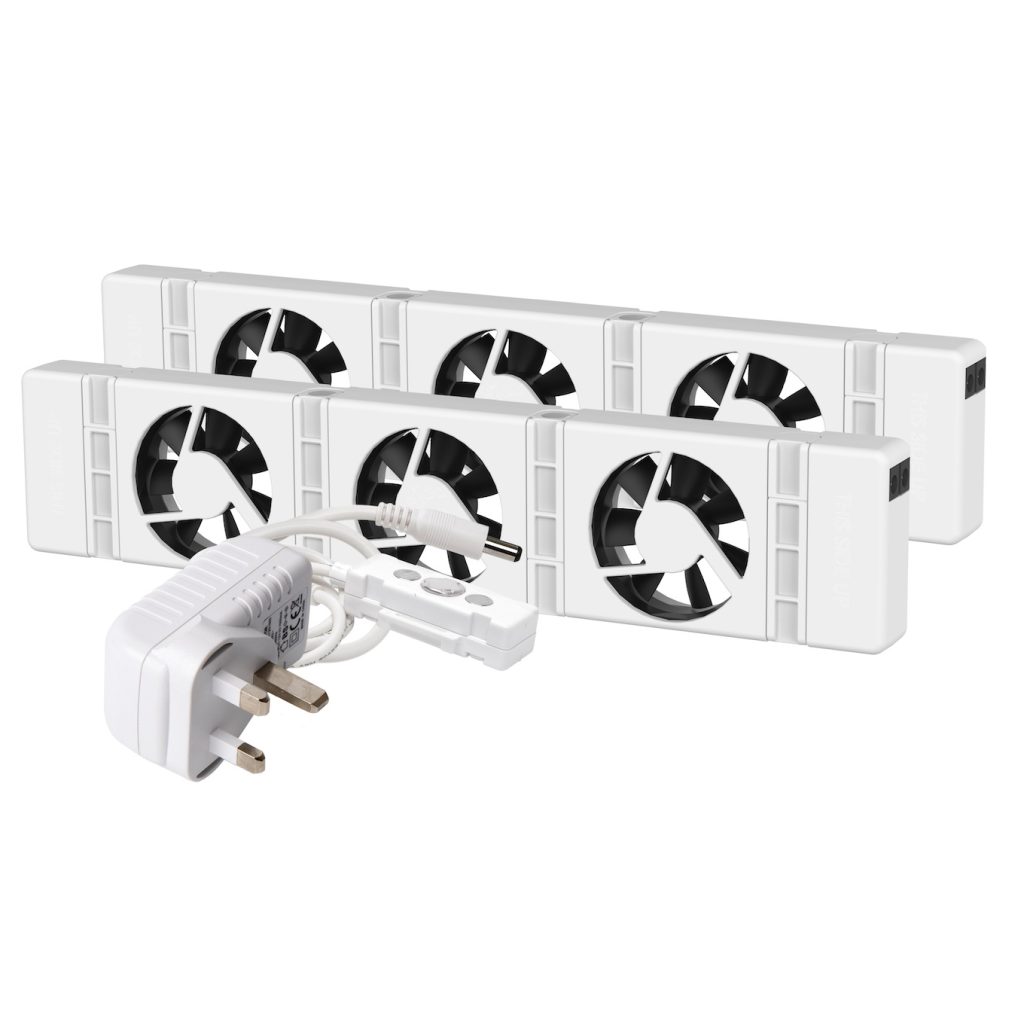 £

99.95 inc VAT
Fits radiators with 70 – 90mm (2.75 – 3.5in) between panels
Duo set covers 80cm (31.5in) of radiator length
Suitable for radiators between 75cm (29.5in) and 120cm (47.24in) in length
Ideal for standard sized rooms with one radiator
For most radiators and convectors
If you have radiators with less than 7 cm of space between the panels, pull the magnetic slides out of the housing and put them back in place with the magnet facing upwards. The blocks opposite the magnetic slides now only have a cosmetic function and can be removed. The SpeedComfort will now hang tightly under the radiator.
If you have old-fashioned louvre radiators, you can hang SpeedComforts underneath with wires or tie wraps. You can also use the feet to put them on the ground underneath the radiator – it's not fancy, but it works… And if there's not enough room for SpeedComforts at the bottom of your radiators, you can also place them on top. Many radiators have a grille, under which they are hardly noticeable.
How do SpeedComforts work?
SpeedComforts have an external thermostat switch.  This is placed near the hot water supply using magnets. When the radiator or convector gets to 33 degrees close to the thermostat switch, the fans will turn on automatically. As a result, the radiator/convector moves heat more quickly from the radiator into the room. The room is brought to the desired temperature more quickly, and the heat is also better distributed.
The heat from the radiators/convectors is also distributed around the room for a much longer time. SpeedComforts only stop when the temperature of the radiator/convector falls below 25 degrees.
Rule of thumb for the number of SpeedComforts to be used
One SpeedComfort moves approximately 30 m3 of air per hour. The air in a room should preferably circulate once per hour.
Calculation example: a living room measuring 5 metres wide, 8 metres long and 3 metres high has a capacity of 120 m3. In this case, a Trio set with an Extension set, or two Duo sets are required.
In a bedroom, one SpeedComfort (a Monoset) will usually be more than enough.
Radiators often have a hard time heating a room. Maybe there is a sofa in front of it, a wide windowsill above it, or it is hidden behind a decorative casing. In these cases, SpeedComforts provide extra help because, despite these obstructions, they push the warm air into the room.
Linking multiple SpeedComforts
Keep in mind that you need an average length of 50 cm for each SpeedComfort. Therefore, on a radiator/convector of 1.60 m, you can accommodate three.  You can connect up to 20 SpeedComforts, using one adapter. Expansion sets are available, in addition to complete packages. These always include a 30-cm connection cable.