Protect your home with our expansive range of smart, wireless security systems. Motion, sound, smoke, heat and moisture sensors can be placed around the house to detect threats and intruders.
Trigger an alarm, contact authorities, or even silently notify you via mobile application. The possibilities are endless, why not connect other smart home appliances for added deterrent. Intruder in the hallway? Every single light is now active, alarms are blaring and the blinds are opening giving away their position. Only a fool wouldn't run.

Guardsman Security Barriers
The Ultimate Garage/Shed Security System
DON'T DELAY, GET PROTECTED TODAY!
What can we find for you?
Try some keywords to narrow your search such as: LED, Alexa, sensor, hub, exterior,

Showing 1–12 of 148 results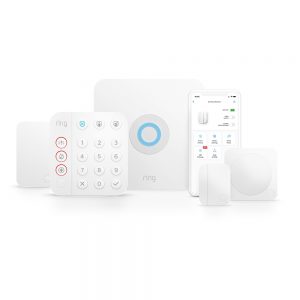 The 2nd generation Ring 5 piece security kit is an easy DIY option for those looking to get started in the world of whole-home security.
Alerts are sent directly to your mobile or tablet whenever doors, windows or your motion sensor are activated.