Smart Home heating has many advantages, you can schedule heating to activate in the morning before you get up. Cold in the evening? tell the house house to get ready to greet you with warmth when you return from work, or even trigger it via GPS location.
Not only does smart heating offer more flexible options for you and your family, it can also make your heating more efficient. Heat sensors and smart thermostats allow you to control individual rooms and radiators, so you won't be wasting money overheating the bathroom.
What can we find for you?
Try some keywords to narrow your search such as: LED, Alexa, sensor, hub, exterior,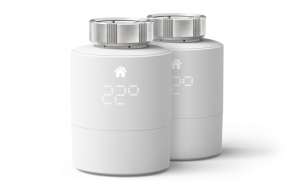 tado° additional Smart Radiator Thermostat – Duo Pack (Vertical mounting)
Helping you to control the climate and comfort within your home, whilst also reducing yiur energy consumption. Setting up with additional Smart Thermostats, tado° can help you save costs whilst providing a comfortable climate in your home.
Add on for Multi-Room Control