Tado offer a range of smart thermostats to have complete, smart control over your home's heating. Their range of products can be used on most heating systems including control of radiators and underfloor heating. You can use the Tado app to control and smartly heat your home or use various smart assistants such as Google Assistant, Apple HomeKit and Amazon Alexa.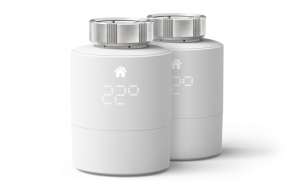 tado° additional Smart Radiator Thermostat – Duo Pack (Vertical mounting)
Helping you to control the climate and comfort within your home, whilst also reducing yiur energy consumption. Setting up with additional Smart Thermostats, tado° can help you save costs whilst providing a comfortable climate in your home.
Add on for Multi-Room Control
Read More