Guide to Mesh Network Systems

What is Mesh WiFi?
Mesh WiFi is a whole home WiFi system built to provide you with uninterrupted WiFi throughout your home.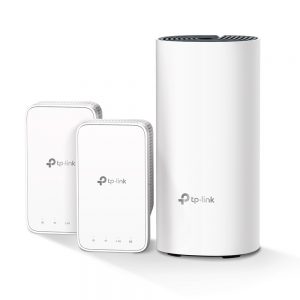 The system enables devices in your network to have faster speeds, greater coverage, and a more reliable connection. The mesh Network works from multiple different access points allowing you to have excellent connection wherever you are in your home.
When one unit links to the modem, that unit becomes the main hub. The other units (called "nodes") will capture and rebroadcast the router's signal.
---
With a proven heritage of stability, performance and value, TP-Link has curated a portfolio of products that meet the networking needs of all individuals. Now, as the connected lifestyle continues to evolve, the company is expanding today to exceed the demands of tomorrow.
If you decide a mesh network Wi-Fi system is what you need, make sure you explore our TP-Link range to purchase yours today, starting from just £58.80.
---
Are you in need of Mesh Wi-Fi?
Mesh WiFi is the perfect solution for people who live in homes with weak Wi-Fi coverage as well as those who desire an easy to set up WiFi System. It is the ideal option for people who have a home that is 3,ooo sw. ft. or has two or more stories, as it will give you coverage throughout the house, which is something that the usual Wi-Fi router cannot usually cover. Mesh Wi-Fi is also perfect for customers that need exceptional and reliable Wi-Fi coverage, which is particularly useful if you are working from home.
One of the main benefits of having mesh is that it works on a single network, which means it will stay connected whether you are moving around the home upstairs or downstairs and need to stay connected.
---
Benefits & Features
Easy set up & management
Consistent & stable long-distance connectivity
Only one network needed for your whole home
Ability to control your smart home
One name & one password – you can log into your network with the use of one set of login details to access your Wi-Fi
Seamless connectivity – allowing you to stay connected when moving around your home
Adaptive routing – always have access to the fastest possible speeds
Self-fixing – if the unlikely event occurs that your mesh system goes down, your mesh system will reboot itself to help you stay connected
---
How does Mesh WiFi Work?
Mesh WiFi works by using two or more mesh WiFi devices or "nodes" to create a mesh WiFi network. One node is connected to
an internet modem, while the rest can be placed throughout your home to create a powerful wireless network.  These nodes are all
part of the same network and share the same SSID and password, therefore making setting and scaling up your mesh network as easy as adding another node.
Contact us for more information or queries.