Airthings Wave Plus – Smart indoor air quality and radon monitor
Complete indoor air quality monitoring with 6 sensors: radon, CO2, humidity, temp, airborne chemicals (VOCs) and pressure.
EAN / Barcode: 7090031109301

Our technical team is on hand to solve any problems or help you find the ideal solution.
Description
We spend 90% of our time indoors where the air is often 2 to 5 times worse than the air outside. Continuous monitoring of indoor air quality is key for minimising negative health effects, preventing illness and increasing productivity, energy and good health. Airthings, air quality specialists and experts in radon, created the Airthings Wave Plus as the first smart air quality monitor with radon detection. Wave Plus has since won multiple awards for consumer electronics and innovation and was among the 2019 TIME Magazine inventions of the year. It is the perfect solution for homeowners to gain full visibility into six indoor air factors; radon, carbon dioxide (CO2), airborne chemicals (VOCs), humidity, temperature and air pressure. Airthings Wave Plus is wireless, battery operated and includes a free app (iOS/Android) and an online dashboard with advanced analytics.

Features:
Award winning product: 2019 TIME Magazine invention of the year
Six sensors to monitor the air in your home
Wave Plus monitors radon, TVOCs (airborne chemicals), humidity, temperature, CO2, and pressure – helping you to safeguard your family's health and comfort
Wave Plus' cutting edge technology, combined with the ability to track levels over a period of time, ensure far more accuracy than traditional methods
Colour coded, clear visual indicator 
Simply wave in front of the device to show your current air quality – green – good, yellow – warning, and red – danger 
Easy to understand data with the Airthings app
The simple to use Airthings app, enables you to track the air quality levels in your home on your phone or smart device. Wave Plus clearly shows you easy to understand data from the last 48 hours, week, month or year
Easy to set-up and install
Wave Plus comes with 2 x AA batteries – which is all you need to enable the device. Easily mount Wave Plus on the wall with a single screw. 
Make your smart home a healthy home with Amazon Alexa, Google Assistant, and IFTTT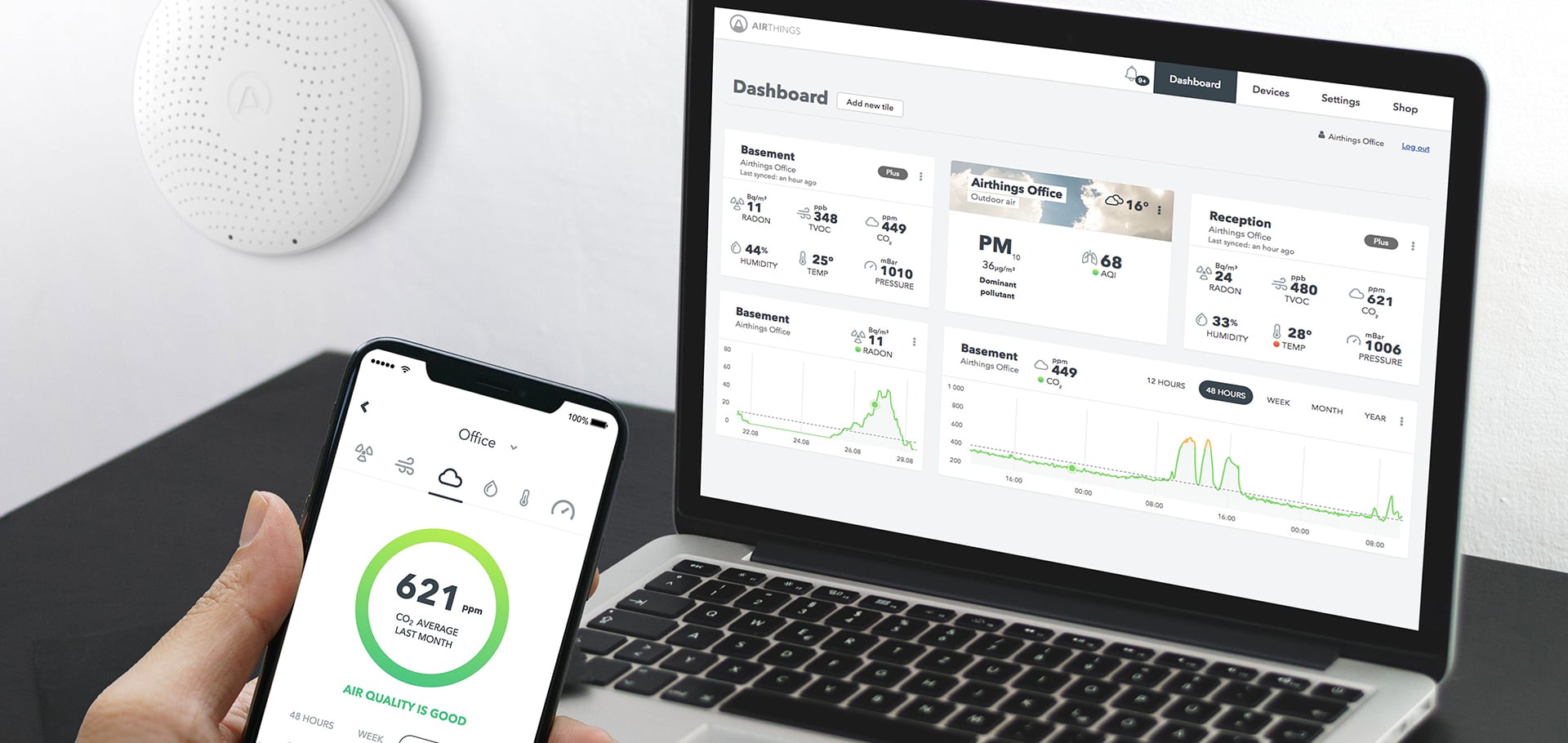 Specifications:
Dimensions: 153x153x46mm
Weight: 346g
Product Guarantee: 12 months
Batteries Required (Included): 2 x AA batteries
OS: Google, Amazon Alexa, IFTTT, Android, iOS
Operating Temperature: 4-40 degrees celsius
Product Specifications
Physical and Performance Attributes

Weight
1.01 KG