Nanoleaf Elements Wooden Look Hexagon Expansion Pack (3 Panels)
Expand your existing Nanoleaf display using this expansion pack.
EAN / Barcode: 0840102701661

Our technical team is on hand to solve any problems or help you find the ideal solution.
Description
Highly customisable modular panels finished with a wood-grain veneer give a sophisticated yet organic feel to your living space. Made to look beautiful on or off, Nanoleaf Elements are a standalone piece of wall art and lighting fixture all in one. Create a geometric art installation with the panels off or light them up to see a softly glowing illumination that flows organically across your layout. Warm to cool lighting options create calming nature-inspired Scenes like a crackling Fireplace and gently moving Clouds, setting the ambience for unwinding before bed or getting cozy in your favorite reading nook. Choose from a list of curated Scenes, or design your own breathtaking murals of light with our intuitive app.
---
What's in the box
Wooden Look
Light Panels

Mounting Tape

Linkers

Mounting Plates

3
4
3
3
---
Key Features
Bespoke Lighting Without the Industry Markups
With Elements, you can truly personalise your lighting without the traditional markups and without sacrificing elegance or style. The best part is the layout can be easily redesigned at any time!
Dynamic Light Scenes
From the cozy ambience of a crackling Fireplace to the feeling of relaxation from a Calming Waterfall, Nanoleaf Elements offers 11 unique Scenes (or create your own in our app) to help set the ideal ambience. Turn on the Rhythm Music Sync to pair perfectly with a jazz playlist.
Elegant and Smart
A blend of design and technology – made to look beautiful on or off. Nanoleaf Elements doubles as wall art with its organic textures, and customisable ambient lighting for finding inspiration or unwinding. Use the panel's touch buttons or the Nanoleaf App for additional smart features.
Simple Adhesive Setup
The setup process is even easier than putting up a picture frame. No wiring, no drilling, no electricians required. Just peel the adhesive on the back of each panel and secure them to the wall.
Lighting for Your Body and Mind
Ease into your day naturally and improve your quality of sleep with the Circadian Lighting feature that balances the color temperature of your lights with sunlight throughout the day.
---
How it Works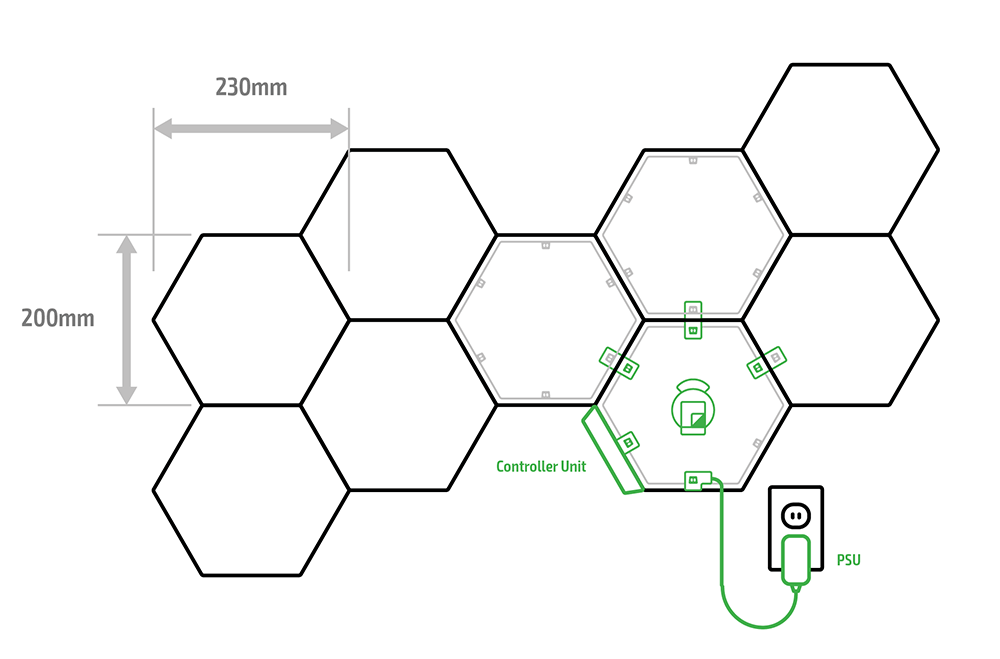 Wood Look Hexagons
Our goal is to allow our customers to bring the best parts of the natural elements indoors, creating comforting experiences that can only be found when we're immersed in nature. Like a cozy campfire on a summer night, the slow ever changing clouds on a sunny day, the flickering glimmers of fireflies, and the warm waves of a tropical beach. Things that naturally instill a sense of peace and calm within us.
Building your immersive battlestation or home-theatre.
Transforming music into stunning visuals, at home or in the studio.
Boosting your energy for workouts.
Creating the right ambience for yoga & mediation.
Setting up your personal productivity zone for working from home.
Designing a statement wall or ceiling decor masterpiece.
Waking up naturally with gentle light alarms.
---
Manuals and Guides
Nanoleaf Elements: Design Your Personal Oasis
The Inspiration Behind Nanoleaf Elements
How to Pair Nanoleaf Elements with your Device
Troubleshooting: Soft and Hard Resets on Nanoleaf Elements
How to Mount and Dismount Nanoleaf Elements
Product Specifications
Physical and Performance Attributes

Weight
680 grams
Dimensions

Height: 7.75 in (20cm)

Width: 9 in (23cm)

Panel Thickness: 0.24 in (6mm)

Panel Mounted Thickness 0.39 in (10mm)

Weight: 0.46 lbs (208g)

Cable Length 8.2 ft (2.5m)

Electronics Attributes

Power Supply
PSU
Voltage
100VAC - 240VAC (universal)