Aqara Home Monitoring and Security Pack
Elevate your home security with Aqara's all-in-one Monitoring and Security Pack. Includes Motion Sensor, Door & Window Sensor, Vibration Sensor, and the advanced Camera Hub G3. Enjoy precise monitoring, AI recognition, and 360° views. Protect your privacy with smart features and seamless integration. Your comprehensive security solution in one smart pack.
Accessories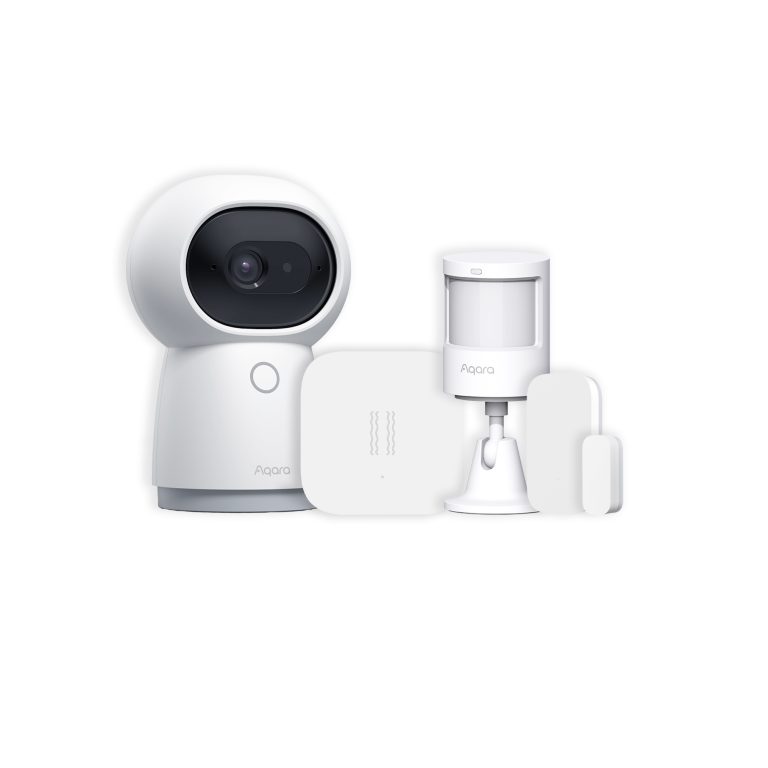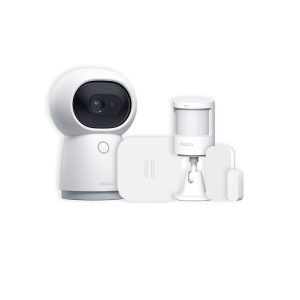 This item:
Aqara Home Monitoring and Security Pack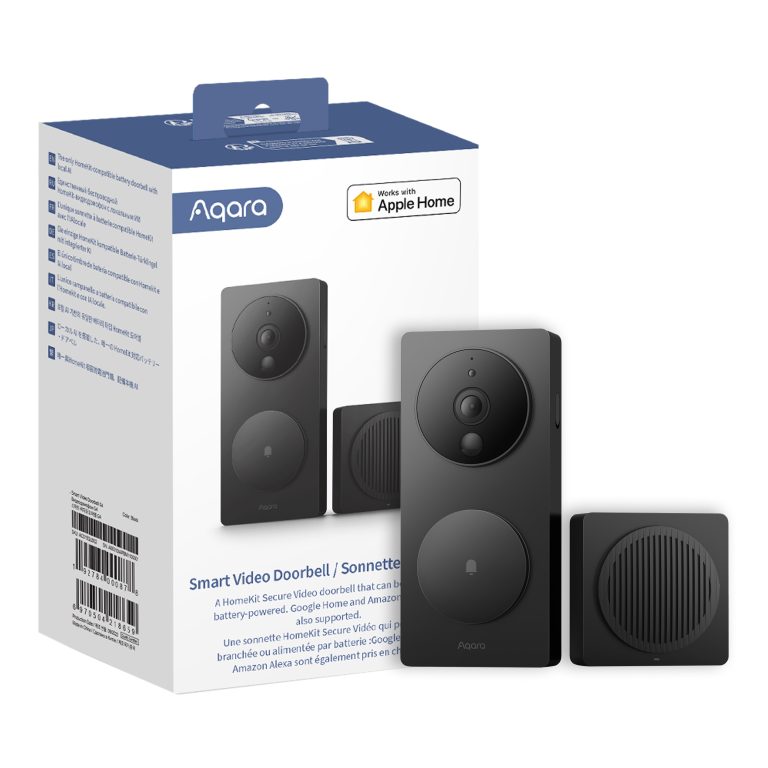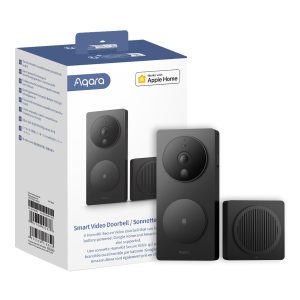 Description
Aqara Home Monitoring and Security Pack
An advanced and comprehensive security pack. Enhanced detection range and viewing efficiency through sensors in various locations, eliminating the limitations of a single camera. With AI capabilities, the camera G3 offers precise and engaging facial, gesture, and pet recognition and tracking while ensuring user privacy and data security.
1)Behavior-Triggered, Precise Monitoring: This provides comprehensive security coverage for your entire home. Different sensors detect events, prompting the G3 camera to automatically adjust to the corresponding direction and precise position for capturing and recording. This ensures you won't miss any critical events and their occurrences.
2)Event Tagging: When the sensors detect movement, the camera G3 starts recording and tags the action and time in the video. This saves users time that they would otherwise spend watching the entire footage. Different events can be tagged with different colors, allowing users to quickly locate and view the events they are most interested in.
3)AI Facial, Pet and Gesture Recognition: Ready to experience a better smart home? Imagine your camera can recognize your face and welcome you when you come home, or recognize strangers and send out notifications to warn you. You can also trigger pre-set actions with five different gestures, which is a new and unique feature that is not available in similar products of other brands.
4)2K 1296p Resolution & 360° Viewing Angle: The Camera Hub G3 incorporates a high-resolution 2304 x 1296 pixel sensor that results in better image quality with more details.* In HomeKit Secure Video mode, the camera records in Full HD 1080p due to the current limitations of HomeKit technology. 110° wide-angle lens coupled with the Pan and Tilt motors provides up to 340° rotation angle, supports automatic cruising, and face and pet recognition. No more Blind Areas in your home.
5)All-Round Compatibility: It supports HomeKit Secure Video, Amazon Alexa, and Google Home (including streaming to smart displays). It also makes compatible child devices support HomeKit, Alexa, Google Assistant, and more.
6)Targeted Privacy Features: If a known family member enters the home, the G3 switches off and goes into sleep mode. It can also be controlled through gesture recognition for easy and quick physical obstruction. But when a sensor is triggered, it can still immediately wake up the G3 camera for recording.
7)Local Infrared Control: The G3 has a built-in IR controller that can make your existing infrared-compatible devices smart and support local automations. Even if the device is not in the G3 infrared code database, you can program it using the existing remote. Moreover, all the IR automations are local and will run even if there is no internet connection.
---
What's Aqara Smart Security Complete Kit included:
---
Trigger precise monitoring based on behaviour
Trigger G3 camera rotation and monitoring through multi-sensor detection. This ensures essential events are captured and alerted, minimizing the number of indoor cameras needed and increasing the efficiency of individual camera surveillance.
Quick view with accurate positioning
Annoyed by scanning through long recordings to find an event? With the Aqara Home Monitoring and Security Pack, mark your event timelines for quick access to sensor-triggered special events and their times. Simply click on the corresponding event tag (i.e., sensor detection) to quickly view what happened during the event.
Anytime,anywhere— activate privacy protection
The G3 Camera Hub is certified by Amazon, Apple and Google to meet all the security standards of the system of your choice. No need to worry about privacy leakage problems. It also has a hardware privacy protection mode that can be turned on manually or automatically. This mode can be easily identified by a cute sleepy face. Moreover, the data streams from the camera are encrypted and the latest Wi-Fi security standard WPA3 is supported to further protect your data.
AI-Powered Facial and Gesture Recognition
By importing your photos, the Camera Hub G3 can trigger personalized automations when you come home. Moreover, with smart gesture recognition, smart home control has become simpler and more fun than ever! For example, you can use gestures to turn off G3 camera monitoring, or it can automatically enter sleep mode when it recognizes a family member's face. The G3 camera will automatically turn on and capture footage only when the sensors detect a specific event.
Clearer, wider camera views
360° Viewing Angle, No Blind Spots.The G3 camera offers a 360° viewing angle that can be controlled through preset paths, tracking a pet or person, automation triggers (e.g., facing the door when a Door and Window Sensor is activated), or manual control.
The G3 Camera Hub features a high-resolution 2304 x 1296 pixel sensor for crystal-clear images with rich details. Dynamic bit rate technology ensures clear footage, even during motion.
Alerts with timely sound and notifications
General cameras often offer only fixed or basic patrolling features. The pack takes specific monitoring scenarios into account and improves efficiency. For example, when a child accidentally opens a window(door and window sensor detects) at home, in addition to triggering the G3 camera to record video, an alarm sound will be sounded at home to remind parents in other rooms to avoid accidents in time.
Multiple storage for easy playback and recording
The G3 offers various storage options, including Aqara cloud storage(7-days- Free), Micro SD card*storage, NAS (Network Attached Storage) cloud storage, providing comprehensive coverage. It supports the SMB 3.0 protocol, ensuring secure data transfer and enabling the transfer of recorded videos from Micro SD card storage to NAS** storage for centralized management, creating a local private cloud service for users.
*  MicroSD card is not included.
** MicroSD card is required to stream to NAS.
Guarding you 24/7
G3 offers a patrol mode. With a Micro SD card inserted, it can provide continuous 24-hour monitoring and recording. Thanks to the various sensors in the package, it increases real-time monitoring efficiency and can tag and report specific events.
*  24/7 Recording requires SD card.
Designed for future scalability
The Aqara security package is not only broadly compatible with third-party ecosystems like Apple Home, Google Home, and Amazon Alexa, but it also allows users to seamlessly integrate devices from these ecosystems, such as supporting HomeKit Secure Video**, enabling a wider range of application scenarios.
Additionally, this package offers comprehensive, efficient security protection with scalability. For instance, users can expand the original package by adding the Smart Video Doorbell G4*, extending security to the outside of the door. When the G4 is pressed, it triggers the G3 camera to start monitoring the door's position.
* Aqara smart video doorbell G4 isn't included in the home monitoring and security pack, need to purchase it extra.
** In HomeKit Secure Video mode, the camera records in Full HD 1080p and Pan/Tilt controls are not available due to the current limitations of HomeKit technology.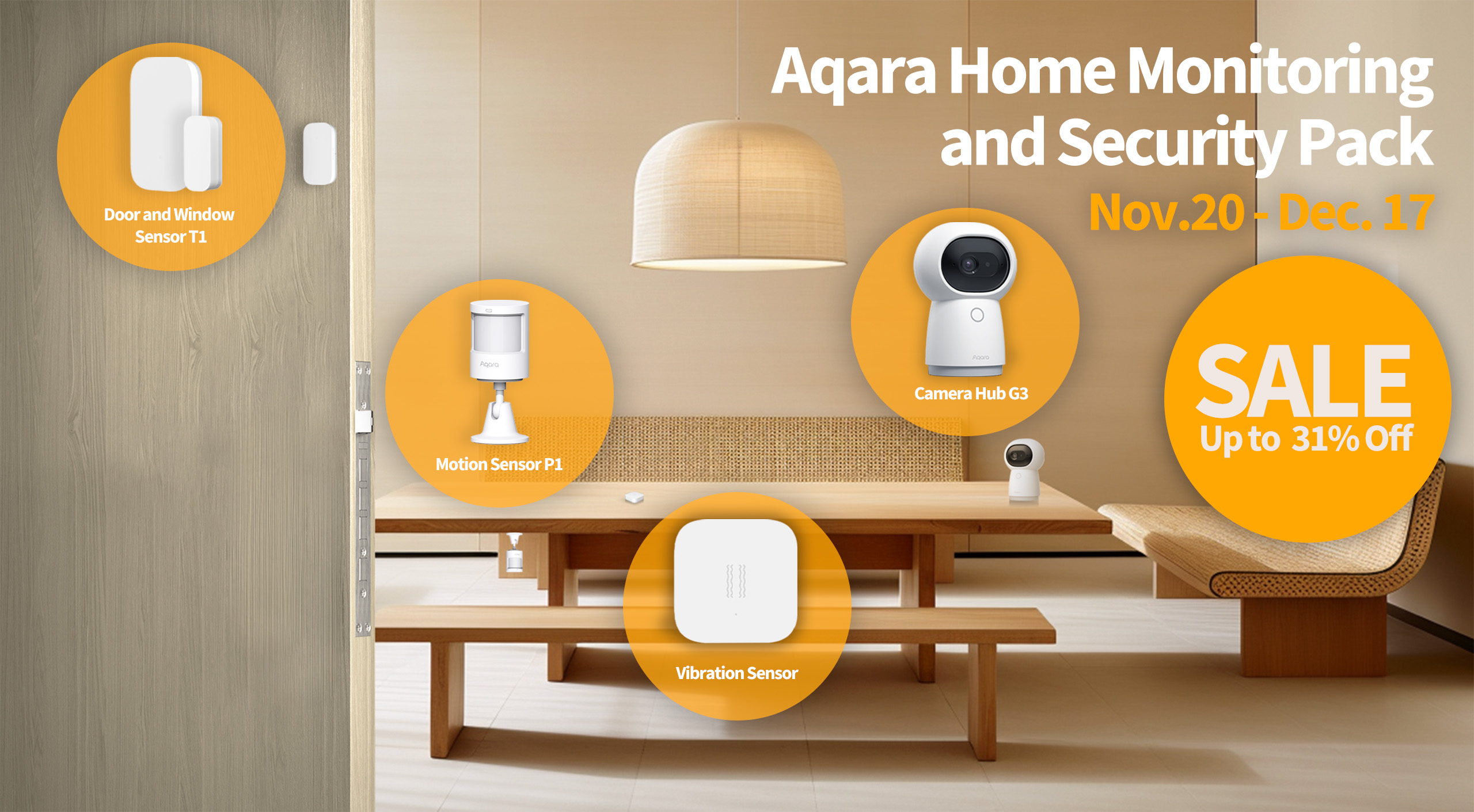 Manuals and Guides
Product Specifications
Physical and Performance Attributes

Weight
760 grams