You can operate your HomeKit accessories from all of your Apple devices using the Home app, which is simple and safe. Turn off the lights, check who's at the door, alter the temperature in your living room, crank up the music, and more. It's much more secure now that HomeKit Secure Video is available, as well as HomeKit-enabled routers. All of your connected gadgets will work harder — and smarter — for you with the help of the Home app.
What can we find for you?
Try some keywords to narrow your search such as: LED, Alexa, sensor, hub, exterior,

Sale!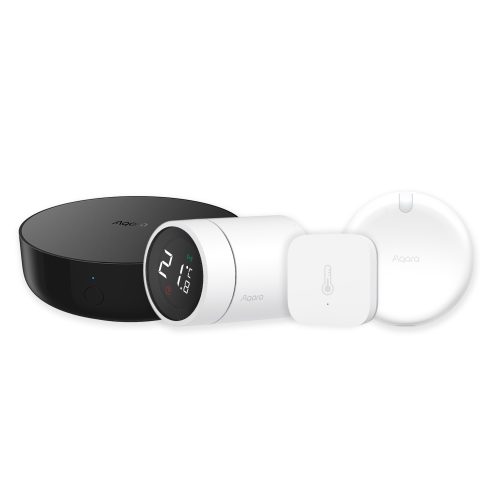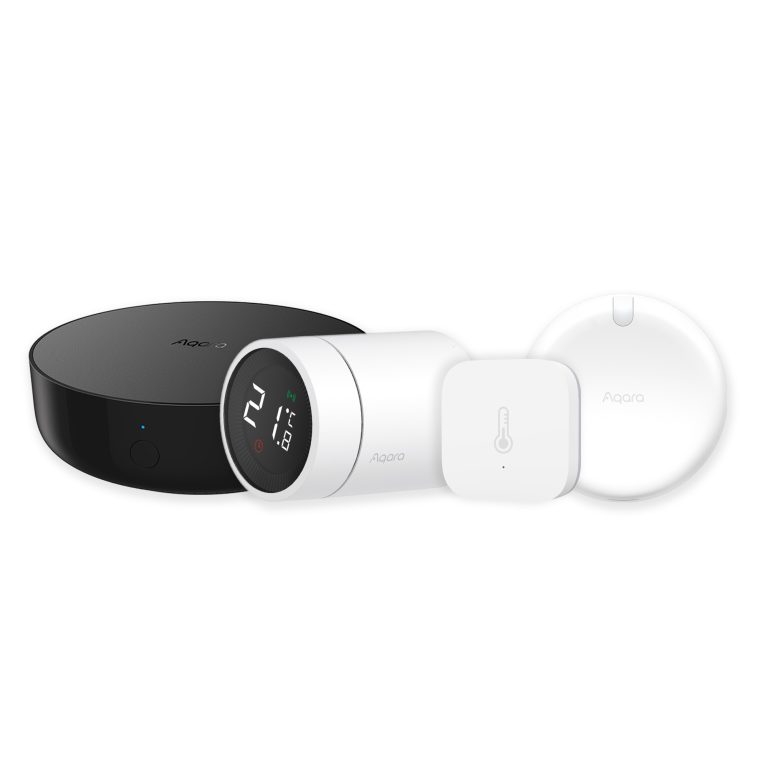 Transform your home with the Aqara Energy Saver Pack – a smart solution for energy-efficient living. This kit, featuring Aqara Presence Sensor FP2, Hub M2, Radiator Thermostat E1, and Temperature and Humidity Sensor T1, brings precision and automation to your fingertips. Adjust temperatures, detect occupants accurately, and control appliances remotely through the Aqara app. Save 20-40% on energy costs with intelligent automation. Compatible with Apple Home, Google Home, and Amazon Alexa. Elevate your living with Aqara – where smart meets sustainable.
Read More
All of your home accessories in one app.
Whatever compatible accessories you select, the Home app makes it simple to set up and operate them all from an one location. Over a hundred businesses across the world have committed to making accessories compatible with the HomeKit architecture, and the number is rising every day. Apple has evaluated and approved each of these accessories to help assure your safety when using them.
Just look for this symbol in-store and online.
Room by Room, your smart home in perfect order.
The Home app organises accessories by room so you can control them with a tap or a click from anywhere in your house. You may even instruct Siri to "turn off the lights in my bedroom" or "start heating the upstairs." More sophisticated activities, such as dimming the lights or altering the temperature, can be performed by pressing an icon. You can now add your AirPlay 2–enabled TV ¹ to the Home app and operate it just like any other accessory — turn it on and off, alter the volume, and switch inputs — just like any other device.
Keep an eye on your home. And keep other eyes out.
Activity observed by supported cameras is privately assessed by your home hub using on-device intelligence to determine if humans, pets, or cars are present with HomeKit Secure Video. When relevant activity is spotted, you and anybody else with whom you share your Home app will receive a rich notification with a link to the clip, which you can see directly from the Lock screen. The Home app allows you to watch recorded video for ten days. It's safely saved in supported iCloud accounts for free, and it doesn't count against your storage limit ².  Aqura, Eufy, and Netatmo, among other leading camera manufacturers, have announced support for HomeKit Secure Video.
HomeKit Secure Video - Store and analyse security camera recordings
With HomeKit Secure Video, you can add your home security cameras in the Home app to record your footage and view it from anywhere. It is all end-to-end encrypted, and none of the video counts towards your iCloud storage. You can access HomeKit Secure Video on your iPhone, iPad, iPod touch, Mac or Apple TV.
The video is privately analysed by your home hub using on-device intelligence to determine if people, pets or cars are present. You can view the last 10 days of activity in the Home app.
Thanks to HomeKit Routers your home is as secure as it is smart.
Smart home gadgets that link to the internet are at risk of being hacked. As a result, HomeKit-enabled routers are now accessible as a basic layer of protection for your smart home. HomeKit routers can isolate each of your accessories, ensuring that even if one is hacked, it cannot access your other gadgets or personal information. You may use the Home app to control which services in your network and on the internet your HomeKit gadgets can talk with.
With a tap or a word, set several things in motion.
With Home, you can create scenes that allow various accessories to function together with a single command. As a result, you can build a "Leaving Home" scene that shuts off the lights, locks the doors, and lowers the temperature. Or a "Film Night" setting that dims the lights, lowers the blinds, and turns on your AirPlay 2–enabled TV.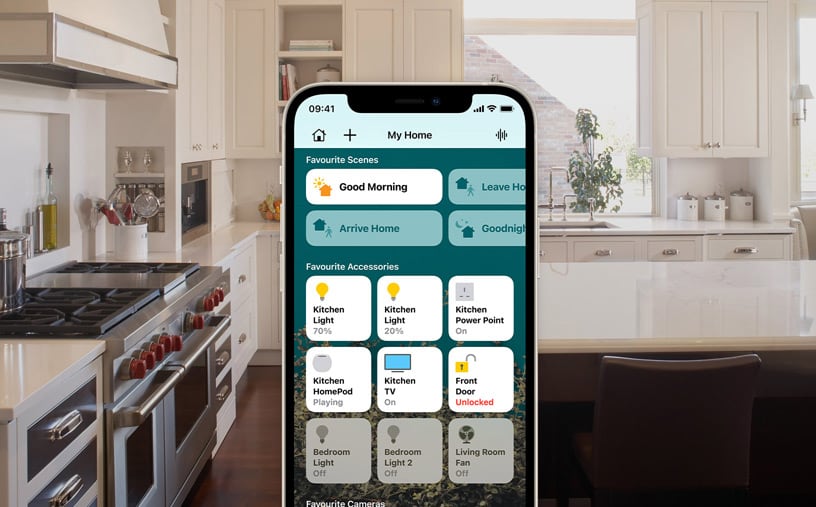 Good Morning
Greet the day with a custom scene that warms up the house, opens the blinds and switches on the kettle.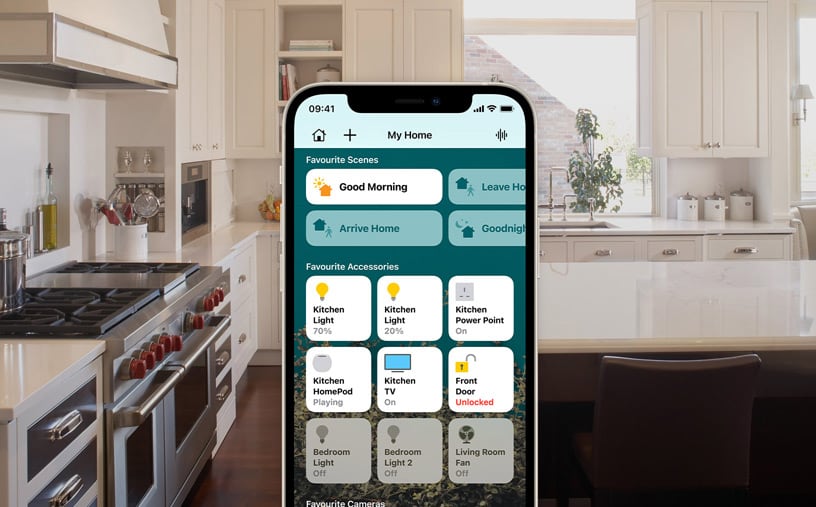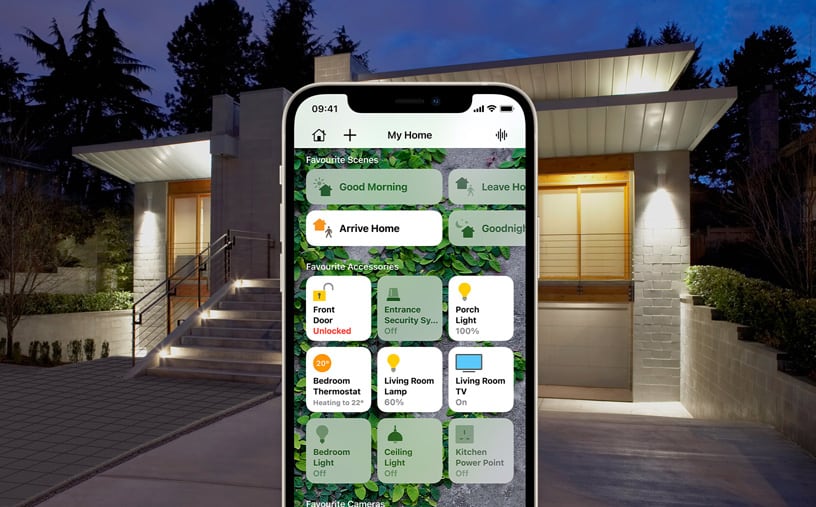 Arrive Home
Prep your home for your arrival with a  scene that opens the garage, unlocks your door and turns on the lights.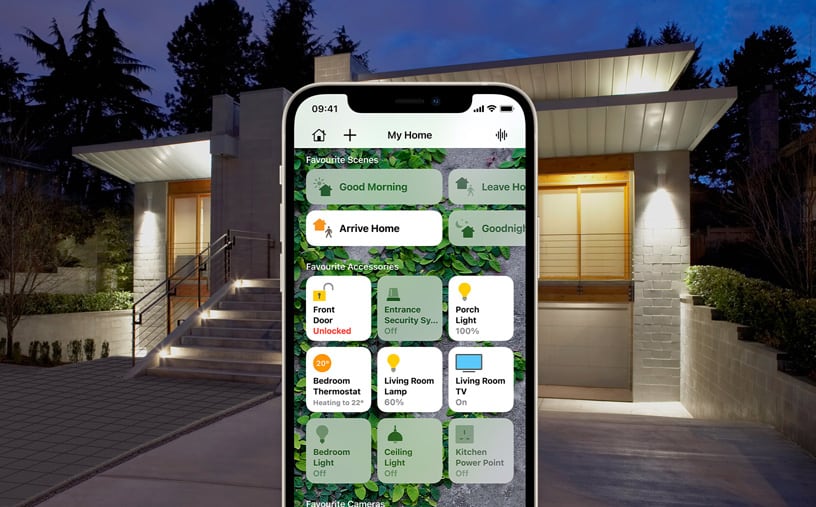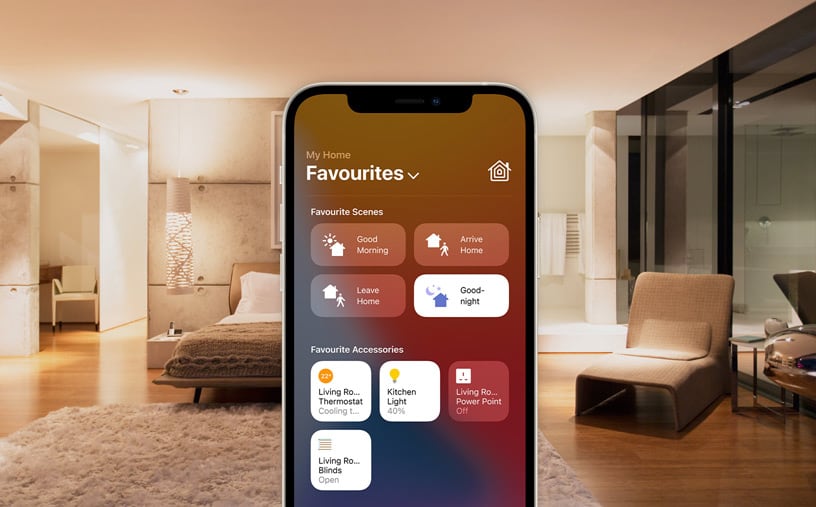 Goodnight
When you're ready to turn in, a custom scene can turn off the lights, lower the thermostat and secure the doors.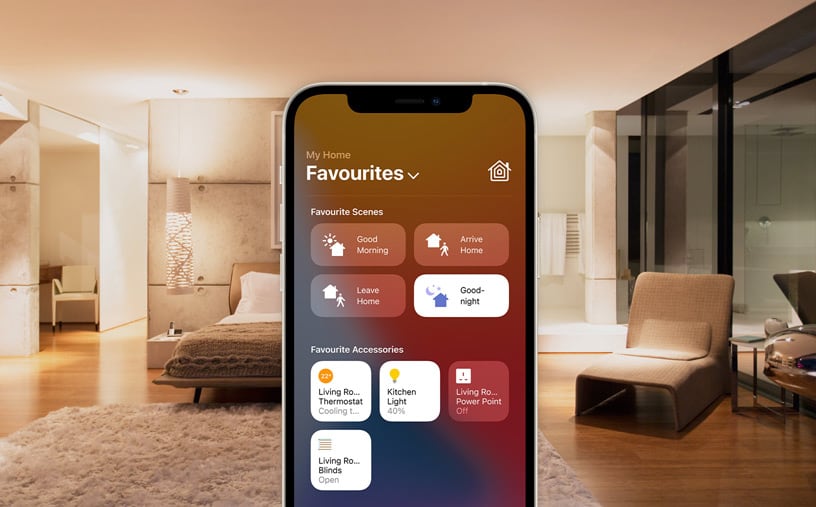 Siri makes your voice the on/off switch.
Siri is aware of the status of any HomeKit-enabled gadgets you have in your house.³ So, from your iPhone or iPad, you can ask Siri to switch an appliance on or off, dim your lights, change the song, establish a scene, or play movies and music on your AirPlay 2–enabled TV. You don't even have to be at home to use Apple TV or HomePod; for example, you may ask Siri to establish the "I'm Home" scenario while driving. Your home will be bright and welcoming when you arrive, ready for you to settle in.
Control your HomeKit accessories.
Use multiple HomeKit accessories to create a scene.
Control your AirPlay 2–enabled TVs with HomeKit.
Control your HomeKit accessories.
Control your AirPlay 2–enabled speakers.
Control your home from virtually anywhere.
You can control all of your smart home gadgets from your Apple TV, HomePod, or iPad using the Home app.⁴ You can use Siri to close your garage door, check live camera video of the doorway, or even ask Siri to decrease the temperature, just like you would at home with the Home app.
Put your home on autopilot.
Your Apple TV, HomePod, and iPad may also automate specific chores in your house. You may, for example, activate an accessory or scene based on the time of day, your location, sensor detection, and other factors. You just have to set it up once.
Set your lights to turn on as soon as you park outside the house.
Have your home turn up the heat at 6:00 am, before you get out of bed.
Use a motion sensor in the doorway to turn your kitchen lights on when you walk in.
Trigger a scene based on who's home, like automatically turning the lights off as you leave if nobody else is there.
Getting started couldn't be easier.
It's easy and secure to set up a HomeKit accessory to function with the Home app. Simply tap the item or scan the HomeKit setup code located on the accessory or in the instructions to link it with your iOS or iPadOS device. Existing HomeKit accessories set up with other apps will be recognised by the Home app.
Control your home with Siri
Create home automations with the Home app
Set up your HomePod, Apple TV or iPad as a home hub
Share control of your home
Privately monitor home activities with HomeKit Secure Video
Secure your home network with HomeKit routers
Samsung smart TVs do not support HomeKit and cannot be added to the Home app.
Requires a 200GB or 2TB iCloud storage plan and a home hub such as Apple TV, HomePod or iPad.
Siri is available on iPhone 4s or later, iPad Pro, iPad (3rd generation or later), iPad Air or later, iPad mini or later, and iPod touch (5th generation or later), and requires internet access. Siri may not be available in all languages or in all areas, and features may vary by area. Mobile data charges may apply.
For iPad to act as a home hub, it must remain in your home, powered and connected to your home Wi‑Fi network.
HomeKit Secure video requires a HomePod, Apple TV or iPad running as a home hub.